Services > NEW Wheels > INserted Wheels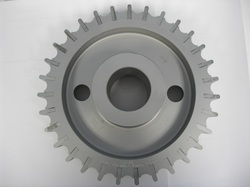 Some designs require the use of inserted teeth. If a special material is required for the teeth, it may be impractical to make a solid crimp wheel.

When designing inserted wheels, we can design the wheels around our standard tooth sizes and always have readily available replacement teeth. We can also make inserted wheels which have double ended teeth. When the tooth surface wears, you can flip them around and have a new tooth surface.



---



email: info@thewheelman.com ¤ 3730 California Road, Orchard Park, NY 14127 ¤ Phone: 716-759-1284 ¤ FAX: 716-667-9751