Services > New teeth > Custom Teeth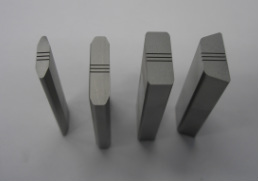 We can make custom teeth in any size, shape, material or quantity.

We have made as small as 0.032" wide and as big as 5/8". In addition, we make double ended teeth. When the tooth surface wears, you can flip them around and have a new tooth surface. This is more cost effective then two teeth.

Our custom teeth can be made in all types of materials, such as A-2, D-2, M-2 or M-42 or any material you require. We stock A-2, M-2 and M-42 materials and many times we can ship teeth in as little as a few days.


---



email: info@thewheelman.com ¤ 3730 California Road, Orchard Park, NY 14127 ¤ Phone: 716-759-1284 ¤ FAX: 716-667-9751