Services > Design > FROM Existing Wheel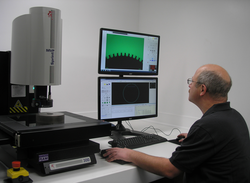 When you require a new wheel and want an exact match, that's no problem for us. We will measure up your old wheel using our Vision Inspection System.

The vision system shows the smallest features on your wheels as well as measuring them. By duplicating these features, we can provide you with an exact match.

We also use this system to inspect every tooth on a new set of wheels to insure they meet our high quality standards.


---



email: info@thewheelman.com ¤ 3730 California Road, Orchard Park, NY 14127 ¤ Phone: 716-759-1284 ¤ FAX: 716-667-9751